List of All Nagar Kirtan's in Canada – 2019
If you are desi in Canada, you may be looking forward to the season of nagar kirtan's, more commonly known as Sikh Parade or Khalsa Day Parade
And why wouldn't you!
Beautiful Spring summers, you get to dress up in traditional clothing, eat great vegetarian food and meet friends/family, and above all, get to remember the important cultural and historical significance*.
To keep the spirits high, most of these Nagar Kirtan's are organized on the weekend so that more and more people are able to attend these amazing cultural/religious events.
It is pretty common for people to be travelling to the closest cities sometimes to attend a second or a third nagar kirtan within the same season. For Instance, we Edmontonions always make it a point to go attend Calgary Nagar Kirtan. Likewise, for Surrey and Vancouver desi's, it is pretty common to attend each other's.
The following is the list of Nagar Kirtan's/ Khalsa Day Parade's taking place/took place in different cities of Canada.
1.) Edmonton Nagar Kirtan 2019 – May 19th, 2019
2.) Calgary Nagar Kirtan 2019 – May 11th, 2019
Calgary held its annual Vaisakhi Parade from the Dashmesh Cultural Centre and commenced at The Westwinds Park.

3.) Vancouver Nagar Kirtan 2019 – April 13th, 2019
Vancouver held its annual Vaisakhi Parade from the KDS Ross Sikh Temple. Over 350,000 people attended the parade including Prime Minister Justin Trudeau, Defence Minster Harjit Sajjan.
4.) Surrey Nagar Kirtan 2019 – April 20th, 2019
Surrey Nagar Kirtan saw over 500000 people in 2019.
Participants in Surrey Nagar Kirtan 2019
The Sikh Riders – a Lower Mainland-based motorcycle club.
Gatka Demonstration – featuring children demonstrating this traditional form of Sikh martial arts.
Parshaad – a float from the Gurdwara Dasmesh Darbar Temple offering traditional Sikh foods to people along the parade route.
CHANNEL Punjabi – the local East Indian television station will be broadcasting from within the parade.
Guru Granth Sahib – this is the main and culturally most significant float in the procession. It carries the Guru Granth Sahib, the 11th Guru of the Sikhs, which are holy scripture of the Sikh religion.
Har Jus Kirtan – a parade entry with over a hundred members singing traditional hymns.
Kirtan Float – another float with people performing traditional Sikh hymns.
Khalsa School – 500 students from the K-12 private Sikh school will perform traditional hymns and dances during the parade.
Sikh Army Float – a parade entry honouring the contributions of the Sikh community in military service both in Canada and around the world.
Khalsa Float – a parade entry honouring the Khalsa and its mission to "uplift humanity, engage in the provision of equality and human rights, and to ensure a world free from discrimination."
Mamta Foundation – a charitable organization that does projects around the world benefiting children including, presently, the construction of orphanage facilities in India's Jalandhar City.
Sikh Human Rights Float – float by a group that advocates for equality and basic human rights. Their parade entry features a different era of Sikh history each year.
TransLink – the public bus service will have a couple of buses within the parade procession that older folk are welcome to get on and ride (so they can get from different points along the route without having to walk the whole way).
Surrey Food Bank – the non-profit will be collecting non-perishable food item donations along the way.
Sikh Motorcycle Club – a second Lower Mainland-based bike club.
5.) Toronto Nagar Kirtan 2019 – April 28th, 2019
Vaisakhi also knowns as Khalsa Day celebrates the Sikh New Year and the establishment of the Sikh community in 1699. In Toronto, the Ontario Sikhs and Gurdwaras Council (OSGC) organizes an annual parade along Lakeshore Blvd. This is the third largest parade in Canada and attracts thousands of participants and spectators each year.
The parade kicks off at 1:00 from the Canadian National Exhibition grounds and travels east to Toronto City Hall, finishing at 3:30. Following, the parade dignitaries address the gathering from 3:30 until 5:00. Snacks are available at both the Exhibition grounds and City Hall.
The OSGC encourages people from all backgrounds and religions to come out and celebrate this important day in the Sikh calendar.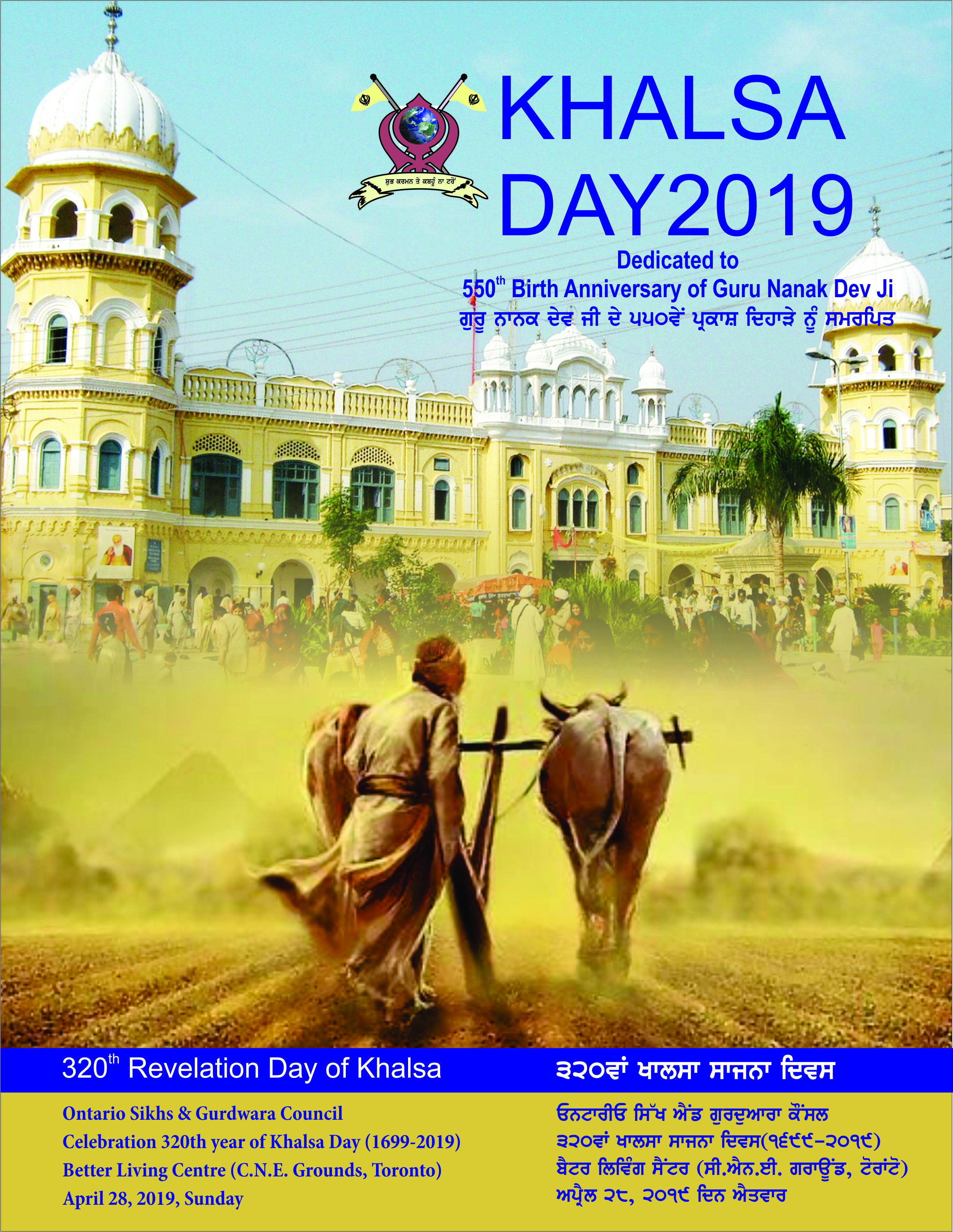 6.) Winnipeg Nagar Kirtan 2019 – TBA
7.) Kelowna Nagar Kirtan 2019 – April 27th, 2019
8.) Kamloops Nagar Kirtan 2019 – April 13th, 2019
Kamloops, British Columbia has a small but affluent Sikh Community of over 2500 people and has occasionally organized Nagar Kirtans. 2019 Kamloops Nagar Kirtan was organized by Sikh Cultural Society Kamloops attended by over 500 people.
9.) Abbotsford Nagar Kirtan 2019 – TBA
10.) Malton Nagar Kirtan 2019 – May 5th, 2019
I am sure we have missed a few cities. If we missed your city, please post in the below comments or email us at contact@yegdesi.com